Hey y'all!  I don't know about you, but I'm so excited for the upcoming fall weather!  And with the changing of the temperatures comes the changing of my home's decor.  I mean, I absolutely love summer, but I also love a fresh start.  Freshening up my home helps me to re-evaluate what I need to keep and what I need to purge.
So, with that fresh start, I've begun an 6-part series called, "Phenomenal Fall Favorites." (Click here for the roundup of all 6 posts.) I'd love for you to follow along with me for the next couple of weeks, as I present to you lots of the latest and greatest inspiring ideas when it comes to decorating your home!
So, let's get to it.  Today's post is part 1 in the series, and it's all about thrifty and rustic Fall essentials for your home.
1.  COZY TEXTURES
Add layers of cozy textures…plaid or faux-fur throws, fluffy and soft pillows, and layers of rugs.  Yes, there are very expensive items in this category, but you can totally do it under a tight budget!  Consider Ikea and H&M for down-pillow inserts; thrift stores for blankets, throws; TJMaxx, Ikea, H&M and Urban Outfitters for rugs and pillow covers.  Now, you can always shop thrift and antiques' stores for every one of these items, but the stores I just listed for you have beautiful rugs and pillow covers for super-cheap prices!  Also, there are tons of tutorials out there for diy pillow covers.  (Here are a couple of tutorials….DIY Placemat Pillow Covers and DIY Pom Pom Pillow Covers.)
2.  CANDLES
My favorite candles are the 3-wick candles at Bath & Body Works.  Because they're $22 each, I always wait to purchase them until they're half off, and then I add a coupon to reduce the price even further, which ends up making them about $8 each.  My favorite autumnal scents are "Sweater Weather," "Leaves," "Mahogany Teakwood," and "Farmstand Apple."
If you'd rather make your own candles, here's a great DIY tutorial on "Pumpkin-Spiced" candles.
Also, another great tip for giving that fall-like ambiance in your home is to use flameless, battery-operated candles on a timer.  Just set them to turn on automatically at a designated time each evening, and let your candles bring in a cozy, warm atmosphere!  I promise, you'll love it!
3.  NATURAL ELEMENTS
Shop the outdoors, or more specifically, your yard, to bring in vibrant colors and some natural elements.  Examples include acorns, pinecones, colorful leaves, pumpkins, cotton branches, moss, birch logs, and — my favorite — antlers!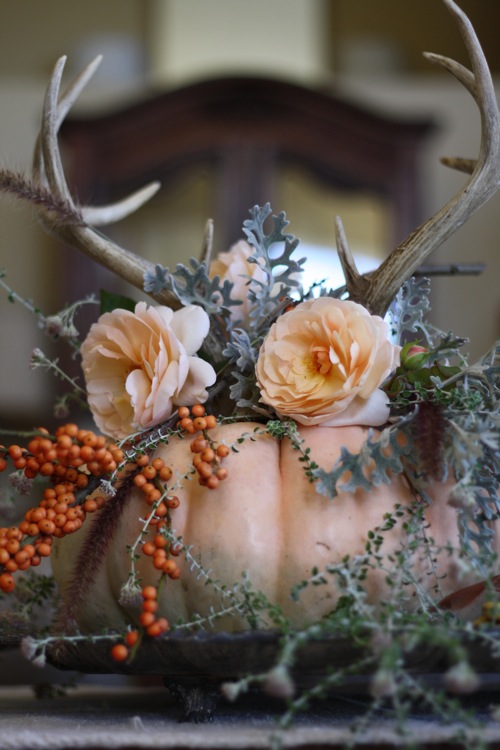 4.  BURLAP
Incorporate burlap into your decor.  Its natural, textural element adds some definite Fall flair to your space!  Plus, it's very inexpensive, especially if you use a coupon at your local craft store. 😉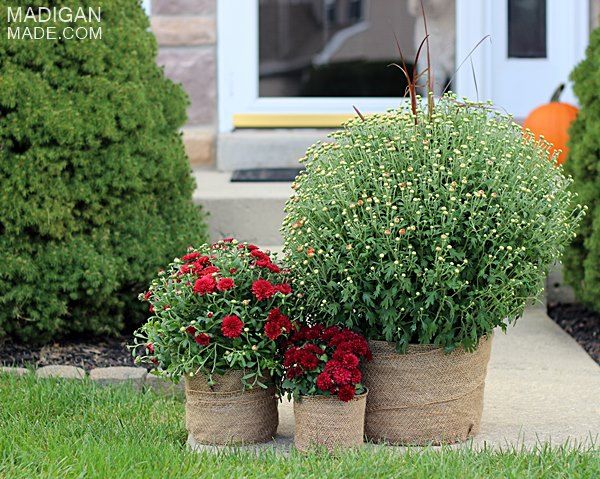 5.  ANYTHING GALVANIZED
Examples might include barrels, trays, pots, pitchers, lanterns, chicken feeders….The list goes on and on!  I recently did a post on how to "age" a plate rack from a brand new chicken feeder.  (Click here for the easy tutorial.)  Because we all know that a rustic, galvanized plate rack can cost an arm and leg, so why not make one yourself?!
6.  CHALK ART
Incorporating chalkboards into your Fall decor is another rustic touch.  Don't have a chalkboard?  It's so easy to make one yourself….And it should only cost you a few dollars total!  (Click here for the simple diy chalkboard tutorial.)  Now to the fun part — diy chalk art.  Check out the inspirational designs below.  Just remember, if you don't like to do your own chalk art, there are vinyls that you can add to your chalkboard (e.g. at Hobby Lobby or Michael's), or you could always use a stencil for your chalkboard.

7.  ANTIQUES
Examples include vintage crates, old kitchen linens and hotel silver.  All of these fun ideas can definitely be found at thrift stores and antiques' stores for fantastic prices!
Well, there you have it, friends — a list of 7 thrifty essentials for rustic, Fall decorating!  What do you think about this list?  How are you planning to decorate your home this year?  I'd love to hear all about it!
The next post, part 2, in the "Phenomenal Fall Favorites" series is all about making an inviting front porch for Fall!   There are six categories in the "Fall Favorites" series, and each post will have the next category.  I hope you'll check it out and let me know what you think.
And if you'd like to see daily, inspirational photos, follow along with me on my Instagram, Twitter, Facebook and Pinterest….Or comment below and say hey!  I always love to hear from y'all!  xoxo