Hey y'all, and welcome to part 4 of the "Phenomenal Fall Favorites" series!  Today, we're talking all about beautiful Fall mantels.  If you missed part 3 — "10 Gorgeous, DIY Fall Wreaths" — click here for some amazing and creative autumnal decor!
I hope you're inspired as much as I am to add more touches of autumn to your home for this beautiful season!

Loving these pretty neutrals on this mantel…the copper, the gilded mirror, the white pumpkins, the acorns, the greenery.  All against a white backdrop.  So simple, yet so elegant!
And how gorgeous is this mantel?!  So many unique items in this pic came from a thrift store or her backyard….Just goes to show you that you can totally make your mantel look stunning under a tight budget!  Also, the black chalkboard paint pops against all the white…and the DIY muslin garland acts as a gorgeous finishing touch!
This next mantel also contains thrifted items and bits of nature from the blogger's own backyard.  I love the beautiful DIY paper-feather wreath!  Notice, also, the symmetry of the decor on the mantel —  branches tower the fun taxidermy on either side of her fireplace!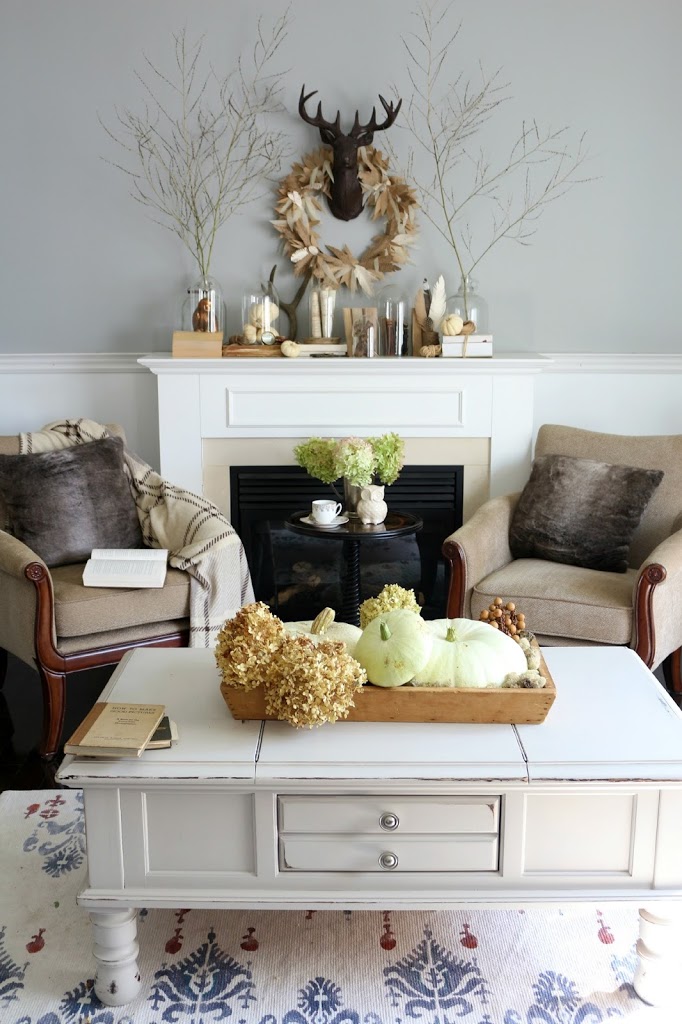 Take a moment and observe the details on this mantel in the picture below….Everything's neutral and can remain with the changing seasons, except a couple of items — the pumpkin chalk art and the lantern filler.  Genius!  I also love her diy book-page wreath.  I don't think I'll ever grow tired of that style!  (And if you'd like to find out how to make such a wreath, check out my easy tutorial!)
Below is our mantel from last year.  It was full of natural elements (pinecones, antlers, and real and faux pumpkins) and thrifted items.  The silver pitcher is actually from Restoration Hardware, but I bought it at Goodwill for $2!  And I made the DIY mossy "B"…a simple project that took a mere 5 minutes.  The wood charger and the bust came from Hobby Lobby, and the faux birch-bark candle holders came from my sweet mama.  The DIY garland was just a spool of pompoms hot-glued to pre-cut canvas shapes from Michael's.  I then used a sharpie to write the word FALL and then glued the fabric flowers onto either end.  Easy peasy!  It's definitely not perfect, by any means, but it helped to tie everything together.
And how fun and unique is this mantel?!  Everything on this shelf was under $6 per item!  So cool.
I love this simple collaboration of decor on her faux mantel.  So pretty!  And those gold dots on the pumpkins are actually stickers. (On a sidenote, the word "grace" conjures up the awesome truth of God's unmerited favor toward us sinners, on receiving His wonderful forgiveness and then in turn, showing forgiveness to others.  Yes!  If you have any questions about God, the bible or salvation, I'd love to share with you what God has done in my life!  There is such wonderful freedom in Christ!)

 What do you think about this decorated mantel?  She incorporated lots of neutrals that can transition with the change of seasons.  All she'll have to do is simply replace a couple of Fall pieces with Christmas ones!  Bingo!

Love this mantel and how this blogger thought outside the box and used very unconventional, yet super cool, items that give that space a "collected over time" feel.
Look at the pretty colors and fun details of this mantel!
I love how this blogger incorporated beautiful, antique silver with old book pages that have such a pretty patina.  And that glass-less window has the perfect aged look to it!
This neutral mantel dressed up for autumn is so fun!  Those white pumpkins came from the dollar store and were transformed with a little paint!  And let's not forget the bottom of her fireplace — the cozy plaid blanket, the old wooden box, the galvanized bucket holding the birch logs…Love it!
Well, you have just viewed 12 inspiring mantels.  Whew!  Those were some gorgeous vignettes!  Which was your favorite?  Are you inspired to decorate for Fall yet?
Up next in the line of the "Phenomenal Fall Favorites" series is part 5, "Rustic Fall Tablescapes."  You don't want to miss this post!
Also, be sure to stop by and say hey on my social media feeds….I always love to hear from y'all!  You can catch me on Instagram sharing some pretty photos or on Pinterest, pinning up the wazoo!  You can also find me on Twitter and Facebook….Or you could comment below.  Y'all are some of the sweetest readers I know, and your comments truly inspire and encourage my heart. 😉