Hey y'all, and thanks for stopping by today!  Before we begin, I wanted to remind you to stop by and say hey on  Instagram, Facebook and Pinterest, so you don't miss another post!  I always love to hear from my readers!
**********************************************
Welcome to part 3 of the "Phenomenal Fall Favorites" series!  Today, I'm sharing with you lots of easy diy wreaths for Fall!  Since I just posted all about gorgeous autumnal front porches (part 2), naturally, this was what had to come next!  I hope this post will inspire you, yet again, to enjoy decorating for this beautiful season.
Look how pretty this apple wreath is!  And I love how the blogger hung her wreath on a rustic chalkboard.
This book-page wreath with chalk art in the center produces a big impact!  And did I mention how easy this type of wreath is to make yourself?  I've dedicated a whole blog post to making such a wreath, too.
And what are your thoughts about this cotton-ball wreath?  I LOVE it, and the good thing is that it costs only $3.50 to make.  What??!!  So fun!
And how about this cute diy paper wreath?  I love that you can choose the specific paper you personally like.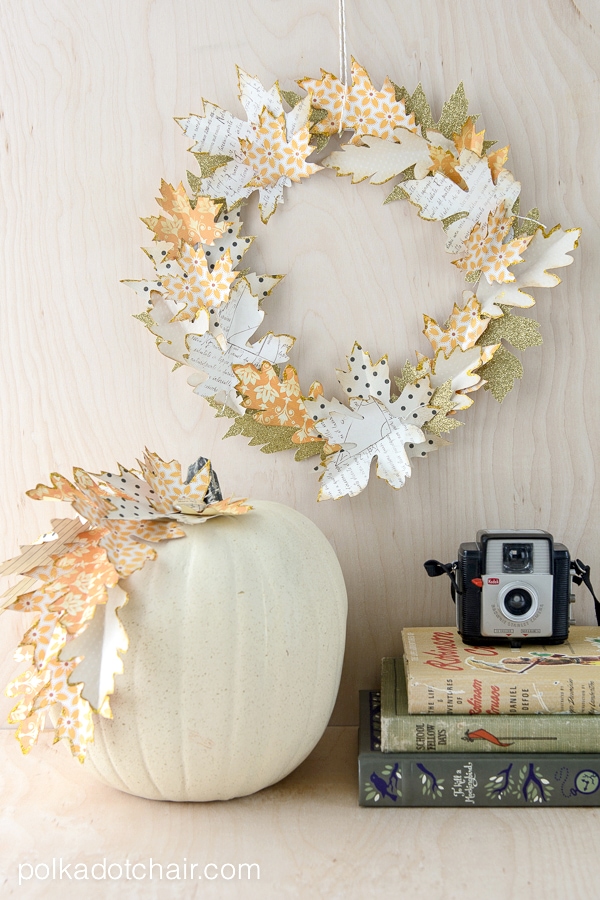 This diy pumpkin-patch wreath is so easy to make, and  I love the bold color palette!
And how gorgeous is this simple diy, neutral fall wreath?!  You won't believe what fabric she used!
And wow.  Look at this stunner of a wreath that was made with felt and yarn.  Loving that bold pop of yellow against the black door, and I love it that she stuck with just one color.
This corn-husk wreath sits center-stage as a beautiful show-stopper!
Check out this gorgeous wheat wreath!  Very chic!
And last, but not least, this rustic, diy acorn wreath is stunning!
I love all of these wreaths so much, it's gonna be hard to make a decision as to which one I should make this year for our front door.  Have you made any fall wreaths lately?  I'd love to hear about them and see pics!
And if you're interested in checking out the rest of the "Phenomenal Fall Favorites" series, I've included a roundup that includes links to all 6 posts.  (Click here.)  Or, if you're like me, and you want to take it one step at a time, check out my next post (part 4) in this series: "Beautiful Fall Mantels." (Click here.)
I'd love for you to drop by and say hey on my Instagram, Facebook, Twitter and Pinterest….Or comment below.  I always love to hear from you, my sweet readers!
You might also like: