Discosure: This post is sponsored by Home Decorators Collection as part of the HDC Holiday Home Tour blog hop.  However, all opinions are 100% my own.
Hey friends!  Thanks so much for stopping by today!  Before we begin, I'd like to invite you to sign up for my newsletter and also follow along with me on Pinterest, Instagram, Twitter, HomeTalk and Facebook.  It always makes my day to hear from my sweet readers!  Y'all are the best!
Can you believe that Christmas is just around the corner?! I'm still in shock that it's just a few weeks away!  It seems like it was just yesterday that I wrote last year's post on our Christmas Entry!  And this year, I have the privilege and honor of partnering with Home Decorators Collection® for the #HDCHolidayHomes blog hop.  I have LOVED working with HDC, and I hope to do more collaborations together in the future.  So, thank you, HDC, for having me.  It's been a pleasure!
Throughout this week, there will be loads of gorgeous inspiration for your Christmas decorating via the #HDCHolidayHomes blog hop.  Each day, new bloggers will be showing you a peak into their homes and sharing with all of you sweet readers how they decorated for Christmas.  So, when you're finished with my family's home, be sure to start back at Day 1 (please see schedule at the bottom of this post) and check out all the other lovely homes in the #HDCHolidayHomes blog hop.  Also, don't forget to use this hashtag on all our social media platforms, so that you can follow along with us.  And lastly, you will have the chance to win one of two $250 gift cards at the bottom of this post!
Let's begin!  This year, I went with the lumberjack-woodsy theme for our Christmas decor.  Think faux fur, flannels, buffalo-checked plaids, antlers….In other words, anything that screams "cozy" is what I was going for! 😉
And to go along with that theme, I chose some seriously fabulous Christmas goodies from Home Decorators Collection® (as seen in the photo below):
Martha Stewart Living Glistening Pine Garland
Martha Stewart Micro LED Light String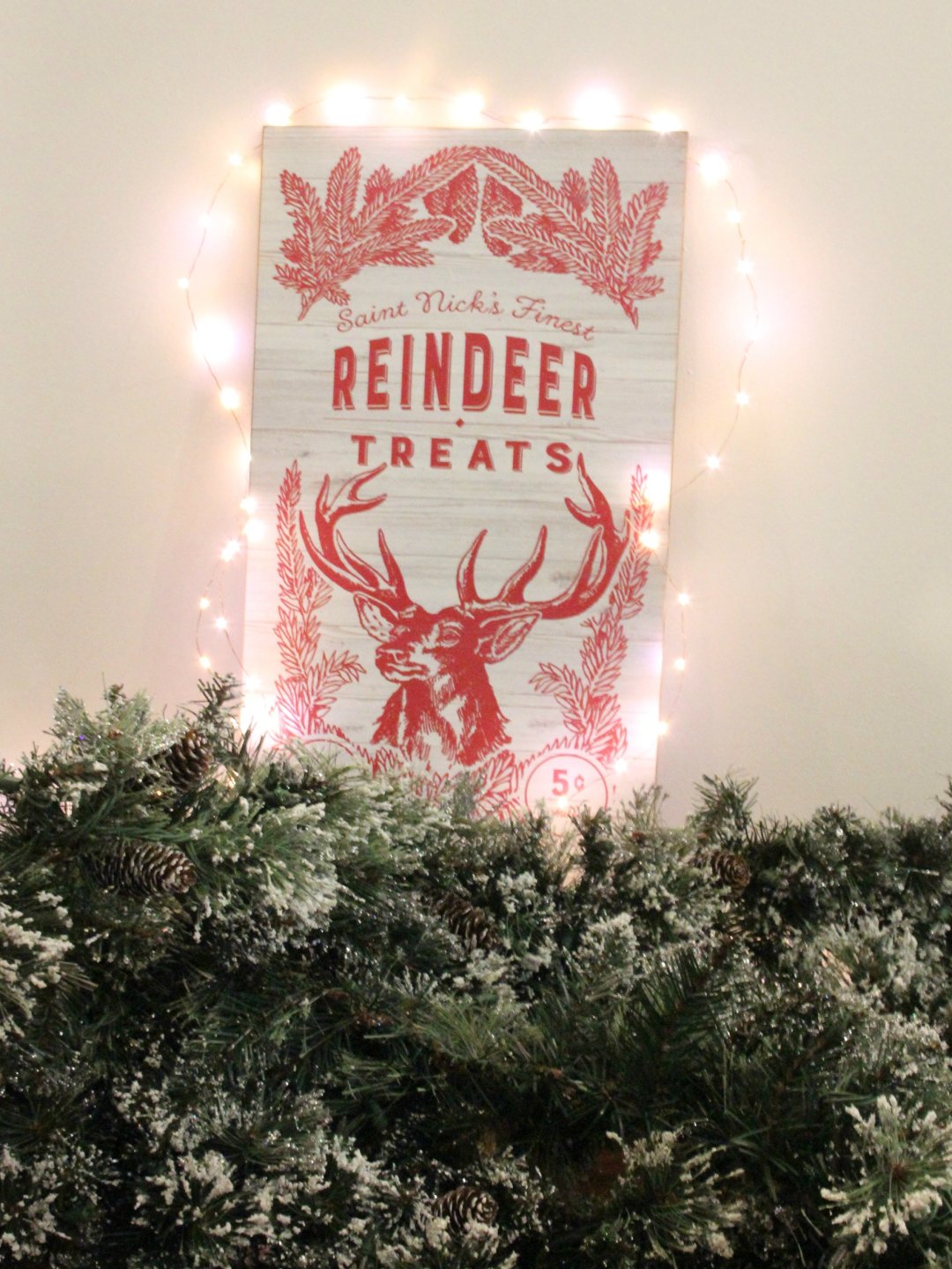 space
space
I'm absolutely loving my new Martha Stewart Living Glistening Pine Garland!  I got 3 of these 9-foot garlands, and I'm so glad I did.  With the glitter and the white-tipped pinecones that are attached to the branches…plus the 100 lights that are on each garland, our mantel shines so bright!
Those letters you see there on the each stocking are actually a really simple and affordable diy project!  If you'd like to read the easy tutorial, please click here.
I'm so excited because I was FINALLY able to talk my sweet hubby into painting our great room a gorgeous white!  I just love it!  This fresh look has totally brightened this space!  If you'd like to see how it looked before (plus see how I put together this gallery wall on a thrifty budget), please click here.
Notice how the garland sparkles!
And the chalkboard below is another recent super-easy and affordable diy project.  To learn about the easy steps to making this beautiful chalkboard, please click here.
Another fun Christmas decor item I picked out at Home Decorators Collection® was this fun "Reindeer Treats" wall decor!  It's so versatile!
And I don't know if you noticed or not, but you see that glitter house behind my fun reindeer sign?  Well, I made that glittery decor, and you can read all about it here.  If you click on that link, there's even a live tutorial video on how to make one yourself!   You definitely need to check it out!
You'll see in the pic below more of my beautiful new garland!  I just used some jute to attach it to the stairs every so often.  It sparkles gorgeously!
And that galvanized tray with the 2 trees has some polyfill for a "snowy" effect.
Of course, I had to add some fun, vintage accessories on the coffee table for touches of farmhouse charm for this beautiful season.
And this toy car is a favorite of mine.  The classic wood paneling gets me every time.
To the left of the family room is our dining room.  I loved putting this rustic, woodsy-styled tablescape together!  To save money, I did a couple of diy projects for our dining table and shopped our house and some thrift stores. If you'd like to find out more about our farmhouse tablescape for Christmas, please click this link.
The last item I picked out from Home Decorators Collection® was one, long strand of some gorgeous micro LED string lights.  The great thing about this product is that it's on a timer, and there are lots of timer options on this one set of lights!  Check it out here.
If you'll notice (in the pic above), there's a hot chocolate bar to the left of our china hutch.  It's a tradition in our family to enjoy some yummy hot chocolate during the Christmas season almost every day.  I blogged all about styling this fun station in this post here.
And lastly, I shared all about our kitchen with a few touches of farmhouse charm for Christmas, which you can read about here.
Here's this week's lineup!
Monday
Erin Spain | The Frugal Homemaker | Chaotically Creative
Tuesday
Designthusiasm | The Rustic Boxwood | House of Hargrove
Wednesday
Duke Manor Farm | The Cheerful Home | Rachel Elizabeth Creates
Thursday
Less Than Perfect Life of Bliss | Southern State of Mind | Effortless Style
Friday
Cuckoo 4 Design | Maggie Overby Studios | Seeking Lavender Lane | Designer Trapped in a Lawyer's Body
Follow along with us on social media using hashtag #HDCholiday homes for tons of beautiful holiday decorating inspiration!
$250 Home Decorators Collection® Gift Card Giveaway!
TWO lucky readers will each win a $250 gift card. To enter to win, simply follow the instructions in the Rafflecopter widget below. The giveaway ends at Midnight EST on December 16, 2016. Please see full list of giveaway rules and regulations here.
Well, I hope you've enjoyed this home tour of ours!  Please be sure to stop back by this week and the next for more Christmas decor posts from our home, such as our front entry, more on our dining table, our kitchen and fun hot-chocolate bar ideas!
If you have any questions, please feel free to email me at TheRusticBoxwood@gmail.com, or comment below.  You can also find me on Pinterest, Instagram, Twitter, HomeTalk and Facebook.  I always love to hear from y'all!
And thanks again to the wonderful team at Home Decorators Collection®!  I hope all of you have a very merry Christmas!